Insecure has solidified its place as a cult classic even though it's still on. This show has highlighted what it means to be Black in every capacity. Highlighting the experience of the boujee, blerd, awkward, and somewhere in between. All Black people felt seen with this show and it's something that will truly be missed. Look at the camaraderie on black Twitter if you want to try and refute this?
This past episode on Insecure had all the feels! Issa is finally bossing up and progressing in the right direction. Of course, she's going to always have feelings for Lawrence they pretty much grew up together. This was her man all through college and her adult life. But that was so insensitive for him to pull that ish at Tiffany's party.
He had a whole year! Like a year bro! If Issa didn't have anyone else, he wouldn't have pursued her.
Which begs the question why do men wait until you glow up after breakup to come back?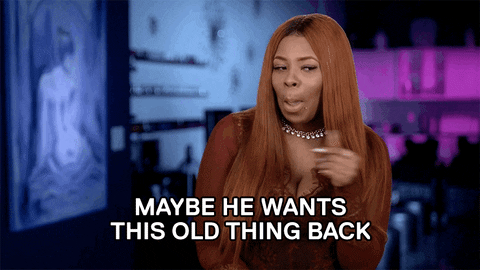 Why do we cheer on that struggle love? Yes, Lawrence is familiar and there's history between them. So, it's easy to stick with familiarity but if that person is hindering your growth. Why should you stay? If this fictional relationship taught us anything it's taught us to put ourselves first no matter what. Even though it's painful in the beginning Issa taught us that it's beauty in the struggle because sis is full-blown flourishing.
Molly taught us the dos and don'ts in dating, she showed that being sexually liberated comes at a cost. Most of the time it's you paying the biggest tax because you're the most invested. Think about her and Dro, she said it was just sex but deep down there were feelings that couldn't be explored because of his situation. She kept lying to herself saying it was ok being the other woman. Which should serve as a reminder to never sacrifice yourself or standards for the sake of having a man.  With Andrew, she became the homegirl that gets on our nerves. She started acting brand new because she's with someone. I'm all for evolution but not at the expense of hurting people because that fallout between Issa and her could've been a simple conversation. This new relationship with her and Taurean is bringing the best out of her. He lets her be, Taurean doesn't sacrifice her morals. He doesn't act awkward around her friends or put her in precarious situations. These are the type of people you need in your life.
The reason Insecure resonated with everyone is that these characters remind us of those who are close to us. Or we saw ourselves in the characters which is why we were so invested. Insecure set the standard for other Black creatives coming up next. It's a rarity to see our stories told authentically and this show will truly be missed.